New zero plastic packaging options for much loved products.
The much loved BOTANICAL FACIAL SMOOTHER is now available in a beautiful glass apothecary jar. You still have your sweet little wooden spoon and wooden bowl for mixing…both just the right size for your application. Additionally, I sewed for you this pretty pouch so that the jar, wooden bowl and spoon all fit perfectly inside together. 100% cotton ribbons- no silk for my vegan friends. Same 8 oz. size as what the plastic jar was.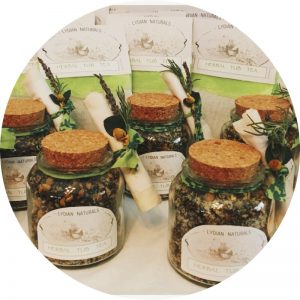 Tub Teas are now available in beautiful glass apothecary jars with reusable cotton drawstring bag. Each jar contains 3 treatments- so save your cotton pouch and refill it with the botanicals for each treatment. When the tub tea is all gone, you got a beautiful glass apothecary jar that is so pretty you'll want to find something else to put in them when your tub tea is gone.
I hope you love these new packaging concepts as much as I do! It brings joy and peace to my heart knowing that we are all working together, making better decisions for a more conscious lifestyle.
Thanks for reading!